They say "write the match report for the match you wish you were at, not the one you were actually at".
Actually, that's a lie.  No-one has ever said that.  Probably because it's objectively terrible advice.  Nevertheless, I'll crack on.
I'd travelled up from London for my first home game of the season.  Well, that and to visit my parents – who'd kind of forgotten who I since our season petered out around about Christmas-time.
That meant I had to miss my local non-league side; Clapton FC of the Essex Senior League (that's a level lower than even Chester have played at) taking on their borough rivals Newham FC – I'd have to follow that game on twitter instead.
In the game I was actually at, we started really brightly – pinging the ball around intelligently.  Young Durrell seemed to be linking up well with the forwards, even if his set-piece delivery was a bit patchy.  We dominated the game, though without creating too much beyond forcing a couple of smart saves from the Woking keeper, and the crowd at the Racecourse were getting behind the team.
On twitter there was radio silence.  Whether it was a lack of action, too much action or simply the fact that the Racecourse tends to be a 3G deadzone on T-Mobile, I had no idea.
Woking's goal was a sucker-punch.  In pretty much their only meaningful attack of the half, Rendell found a yard or so of space and hit a wonderful dipping shot.  Wrexham fans behind the goal applauded.  Wannabe Alan Hansens behind the goal moaned about the amount of space Rendell had.
On twitter, Fahed Nyanja (a.k.a. Ninja) nodded the Tons in front.  I say nodded, I have no idea.  I assume someone would have mentioned if it was a great goal.
The (Woking) goal seemed to take the wind out of Wrexham's sails a bit.  There followed quarter of an hour of aimless hoofing.  The pass-and-move of the opening twenty replaced by toe-ends out of play.
Then a neat ball from Durrell off a throw-in, a side-step from the hard-working Moult, a bottom corner strike, a goal.  Wrexham had the reward that their first-half play deserved.
On twitter, Newham were down to ten men.  If anyone knew why, they weren't telling me.
The second half looked like a reprise of the first.  Wrexham looked pretty and looked on top, but didn't create too much.  Or did they – as I was slightly distracted at this point by Nyanja adding a second and then a third from the penalty spot for Clapton.  But then complacency set in at the Racecourse.  A cheap giveaway in midfield led to a glorious sweeping pass that found Morgan.  Morgan found the skills for a mazy dribble and a tidy finish.  1 – 2.  And Wrexham trailed.
James Briggs for Clapton scored a 35 yard free-kick.  I could imagine the scenes.  Mayhem, carnage, spilled beer, smoke bombs, a mad damp, sweaty, beery mass of players and fans celebrating the goal together.  I daydreamed of the Tons in dreamland while, the Racecourse was stunned into silenced by Morgan's moment of magic.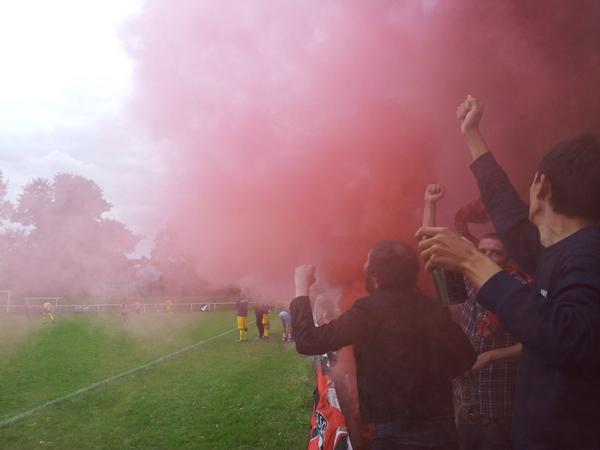 As in the first half Wrexham the goal seemed to hit Wrexham hard; they looked out of the contest.  But Woking pressed and harried, chasing down balls, harassing the defence, carving out chances for themselves.  Smart keeping and poor finishing kept us in the game.
Then Louis Moult headed in off a free kick.  Offside off a free-kick.  Celebrations cruelly curtailed by a joyless jobsworth linesman.  I resented him for partly for his accurate interpretation of the laws of the game, but more for his flag technique.  Flagging an offside goal from someone like Louis Moult should be apologetic.  But this linesman enjoyed disallowing goals – and, no doubt, pulling the legs off spiders and crushing the dreams of small children.
Clapton made it 5 – 0.  No-one seemed to care who scored.  Then 6 – 0.  Radio silence on twitter as everyone drank themselves silly.  No more dispatches from dreamland, just cold, hard, unforgiving reality.
There was just enough time left in the real world for Andy Bishop to head wide when it looked easier to score (oh, Andy) and for Woking to make our defence look silly a couple more times.  Despite some neat football at times, in the second half we were beaten by the better side and the more motivated side.  A far cry from the Dartford game where sheer willpower had dragged us over the line to the three points when our football had seemed off, where we'd struggled to click for most of the afternoon.
Mind you, Clapton had lost 5 – 1 that day…